CBRNE & Combat Casualty Care (CCC)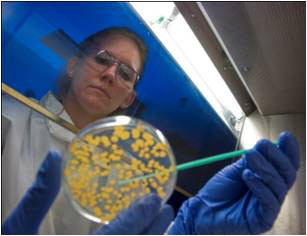 Lovelace is a preeminent research and development facility for medical countermeasures (MCM), chemical, biological, radiological, nuclear and explosives (CBRNE), and combat casualty care (CCC). LBERI can work with agents requiring containment and chemical surety (meets the minimum requirements for AR50-6 Chemical Surety), select agent (CDC) as well as those requiring Nuclear Regulatory Commission (NRC)-approved facilities. We undertake regulated studies in efforts to complete FDA Animal Rule Investigational New Drugs (INDs) leading to full New Drug Application (NDA)/Biologic License Application (BLA) programs.
Radiation
The Applied Science and Toxicology Division at Lovelace was established in 1963 to assist the government (Atomic Energy Commission) in characterizing the potential harmful effects of radiation and has published over 1000 manuscripts in the fields of radiation dosimetry and health hazards. Lovelace has been performing external radiation models for over 20 years. In recent years our team has developed and validated models of acute radiation syndrome, dermal burn/radiation combinations, and systemic injury models in the gastrointestinal and cardiopulmonary systems. Our staff participate in an animal model development consortia and are leading researchers in the areas of radiation dosimetry, radiation drug countermeasures, drug development and risk assessment. Overall, our radiation research team is unparalleled.
Select Agents and Toxins
Lovelace has registered its North and South Campus with the CDC/APHIS select agent program. These facilities can work with various bacterial and viral agents, as well as toxins, that require BSL-3 and/or ABSL-3 enhanced containment. Lovelace has current biosafety and incident response plans in place to address biosafety practices during normal operations and emergencies.
These procedures include reporting requirements for exposures and releases.
CDC has approved Lovelace for the following agents:
B. anthraces
F. tularensis
Y. pestis
Brucella abortus
Brucella melintensis
Brucella suis
Burkholdera mallei
Burkholderia pseudomallei
Coxiella burnetti
Monkeypox virus
Highly pathogenic avian influenza
Eastern equine encephalitis
Venezuelan equine encephalitis
Ricin
Botulinum neurotoxin
Chemical Injury
The LBERI Hazardous Materials Exposure Laboratory (HMEL) is used for the conduct of chemical warfare agent (CWA)/toxic industrial chemical (TIC) exposures. The laboratory is in compliance with the chemical weapons convention as well as local and state laws that permit the synthesis and storage of chemical agents listed under the chemical weapons convention. The laboratory has been conducting research with chemical agents for the Department of Defense starting in 1995.
This laboratory is located in a secure wing that is dedicated to the conduct of studies on highly toxic chemical agents such as:
Sulfur Mustard
Sarin
Soman
Vx
Phosgene
Methyl Isocyanate
Ammonia
Formaldehyde
Hydrogen Sulfide
Chlorine
We apply many novel tools to our models, including pulmonary and neurophysiology (ie EEG) and imaging with CT/MRI.
In summary, Lovelace offers the medical countermeasure community:
Numerous animal models relevant to all aspects of chemical, biological, radiological, and nuclear (CBRN) threats.
Single animal model studies to determine the effects of MCMs (e.g., respiratory centers, bronchoconstriction, and lung inflammation) and the efficacy of therapeutic interventions.
Extensive experience in developing diagnostic assays for a host of diseases.
Physical and biological science capabilities for the generation, collection, and measurement of materials of CBRN interest, including aerosols, nerve gases, and radiological materials. Given New Mexico's unique regulations, we can manufacture small batches of chemical agents at our South facility.
Extensive modeling and simulation capabilities.
Extensive experience in technology transition, specifically relevant to drug development.
Extensive drug development infrastructure, including pharmacology, pharmacokinetics, formulation, telemetry, safety, safety pharmacology, statistics, and quality assurance.